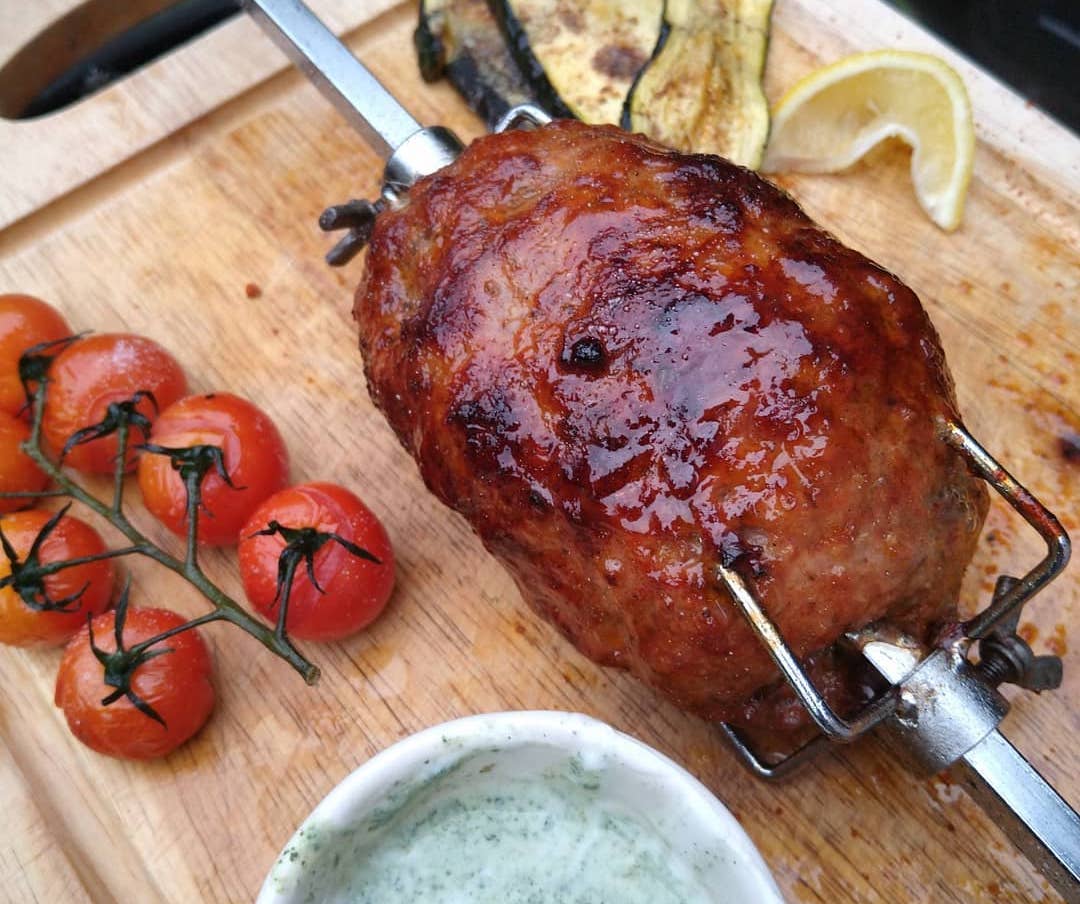 Rotisserie cooking is great for so many things, and this fake doner kebab is a great example. I grew up eating dodgy doner kebabs after a night out, they were always (at least in my memories) so deliciously greasy.
I remember discovering one kebab place in Birmingham that would do doner kebab buns (the meat piled in a soft roll rather than a full kebab with pitta and dressings) for 99p and was blown away by the value! Obviously no questions were asked about the quality on source of the meat, but at 99p for that much deliciousness we really didn't care!

This kebab isn't too close to the originals, which is probably a good thing, but the spinning nature of the rotisserie does mean that a lot of the moisture doesn't escape during cooking and has a beautifully moist, flavourful kebab (fat = flavour after all). If you can, do try to make sure you have meat with a higher fat content, as you will be rewarded in flavour and moisture.


4 people

10 minutes

45 - 60 minutes
Ingredients
400 grams lamb mince - 20% fat content if you can
300 gram pack of bacon rashers
1 tablespoon dried oregano
1 teaspoon cumin
1 teaspoon corriander seeds, crushed
1 teaspoon smoked paprika
2 large cloves of garlic
1 red onion, diced
mint yoghurt, hummus, pitta breads to serve
Directions
Put all the ingredients aside from the sides into a food processor and blitz together until combined, probably about 30 seconds
Form into a cylindrical kebab shape so that it fits on the rotisserie - if you don't have a rotisserie you can shape these in to several smaller sausage shapes and cook in the oven instead
Cook the kebab on the rotisserie for 45-60 minutes (this will vary as usual, depending on grill heat and kebab thickness, just keep an eye on the temperature - you are aiming for an internal temp of 60 - 65 degrees centigrade)
Cut slices off and serve up with warm pitta bread, salad, mint yoghurt and sides.
More delicious recipes
This is one of the many fantastic recipes available on this blog